I Feel So Glad
The Eli Yamin Blues Band
(Yamin Music LLC; 2011)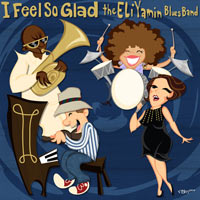 TRACKS:
After Hours
Night Time
Trouble of the World
Shake Sugaree
Musicians:
Eli Yamin: piano, vocal
Kate McGarry: vocal
Bob Stewart: tuba
LaFrae Sci: drums, vocal
Production:
Producer: Eli Yamin
Recording / Mixing Engineer: Jim Anderson
Mastered by Alan Silverman at Arf! Productions
Eli Yamin is a Steinway Artist.
This CD is dedicated in loving memory to Dr. Billy Taylor
Associate Producers: Jim Anderson, Lorraine Yamin
Assistant Engineer: Fernando Lodeiro
Recorded at Avatar Studios on June 20 & 21, 2010
Mixed July 2, 2010
Cover Illustration: Norn Custon
Photographers: In studio – Carolyn Appel, In performance in Chile – Melissa Morano
Packaging Design: Scott Johnson, Keith Henry Brown
Liner Notes: Scott Barretta
Thanks to: Lincoln Center Institute for the Arts in Education, Peg Schuler-Armstrong, Becca Pulliam, Dorthann Kirk, WBGO and Sirius XM, The Rhythm Road: American
Music Abroad team at Jazz at Lincoln Center, New York-Monak Chun, Shana Bromberg, Alexis Ortiz, Susan John, The U.S. Department of State in Washington-Bob Keefe, Columbia Barrosse, and around the globe, Chile-Angela Emerson, Sandra Perroni, Romania-Ruxandra Todiras, Greece-Markella Karagiorga, Brazil-Edvaldo Amorim, Conrado Blasi, Albania-Mirela Cupi, Matilda Vangjeli, Montenegro-Slavica Rosic, Maja Popovic, Kirk Imamura, Ken Druker, Todd Barkin, Chanel Crichlow and Curtis Stewart.
Thanks in loving memory to Bross Townsend, Walter Perkins, Gwen Cleveland.
Special thanks to: Bob, Kate, LaFrae, Jim, Cliff, Lorraine, Manika, Jayme and everyone in the audience who stomps, sings and claps their hands with us.