Louie's Dream
Eli Yamin & Evan Christopher
(Yamin Music, LLC; 2013)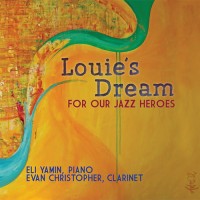 TRACKS:
You Gotta Treat It Gentle
What's Your Story Morning Glory
Azalea
My Jazz Hero, a poem by Eli Yamin
Let His Love Take Me Higher
Impromptu
Louie's Dream Reprise
Musicians:
Eli Yamin – piano
Evan Christopher – Clarinet
Production:
Recorded November 7,2012 at Oktaven Studios in Yonkers, NY
Recorded and mixed by Ryan Streber
Mastered by Alan Silverman, ARF! Mastering
Produced by Eli Yamin and Evan Christopher
Cover Painting Adrianna Fabrega
Cover layout and photo by Lana Neudorfer
Layout by Scott Johnson
Executive Producer, The Jazz Drama Program and Yamin Music LLC
All Yamin and Yamin/Carlson songs published by Yamin Music BMI.
All Christopher songs by Clarinet Road Publishing BMI.
Eli Yamin is a Steinway Artist.
Thanks to all our jazz heroes past and present. Also thanks to Rhea Gill of Arts are Basic in Nebraska for asking us to put together a program of our heroes and to Judi Holifield and the Mississippi Arts Commission for presenting the duo several times and supporting its growth. Thank-you to Adrianna Fabrega for the use of her magnificent painting for the cover. The painting was originally inspired by Rwandan Child, a composition by Eli Yamin. It perfectly represents Louie's Dream, and the idea that paying attention to the wisdom of children helps us know and support the unity of all humanity.
The Jazz Drama Program is a New York based 501c3 non-profit organization that uplifts teachers, students and their communities with interactive experiences in the jazz arts-storytelling, music, theatre, dance and visual arts.