Nora's Ark – The Jazz Musical
By Eli Yamin And Clifford Carlson
(The Jazz Drama Program; 2010)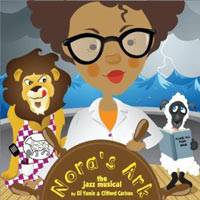 TRACKS:
The Laboratory
The Storm
Turtle Trot
Cheetah Trot
Stampede, The Chase
Oath of Honor
Blues Interlude
Blues Segue Into Sunrise
Segue to Born Free
Bunny Entrance
Cheetah Overboard, Turtles Overboard
Musicians:
Eli Yamin – piano
Mark McGowan – trumpet
Chris Byars – tenor saxophone/flute
Pat 'O Leary – bass
Stefan Schatz – drums
Featuring the Brooklyn Youth Chorus Jazz Singers with Sofia D'Alessandro, Ariella De Los Santos, Daniel Epelbaum, Talia Fuchs, Raquel Klein, Anna Lentz, Isaac Lertola, Alice Markham-Cantor, Solomon McDougall, Jake Montagnino, Emma Orme, Nadege Philogene, Roselise Russo, Christina Santa Maria and Bolivia Williams.
The Story… Nora, a scientist, predicts the melting of the poles and the flooding of the Earth. Rescuing the animals at the Bronx Zoo, Nora and her daughters, Dora, Flora, Lora and Fitzi rent a cruise ship. It seems all are saved, except that daughter Fitzi forgets to bring food. Predators look on their fellow passengers as prey. All animals discover that freedom is a greater sustaining force than food and all ultimately cooperate in finding an edible solution.