You Can't Buy Swing
(Yamin Music LLC; 2008)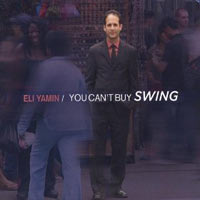 TRACKS:
Getting Somewhere
Well, You Better Not
Just One
Jacquet's Meditation
Waltz On The Hudson
Musicians:
Eli Yamin – piano
Chris Byars – sax, flute, conga
Lakecia Benjamin – sax
Ari Roland – Bass
Alvin Atkinson – drums
FROM THE LINER NOTES:
In 2007, Yamin and two fellow faculty members made a State Department-sponsored "Rhythm Road" tour, hitting eight cities around the world in four weeks. In Mali, bassist Ari Roland, drummer Alvin Atkinson, and Eli jammed with the Bamako Orchestra.
Their hosts in Kolkata and Chennai, India, invited them back; Eli returned a year later. In southern China, the band visited Guangzhou and the Sichuan Conservatory of Music in Chengdu, which was struck by the huge earthquake less than a year later, in May, 2008. Once home, Eli decided to take the Rhythm Road rhythm section and two favorite saxophonists into a New York recording studio. Chris Byars has been a musician since he was only six years old. Up to age fourteen, he sang with the Metropolitan Opera chorus. Since he shifted his full attention to jazz, Byars has rediscovered and beautifully arranged music of several not-well-known instrumentalists (currently vibraphonist Teddy Charles), performing alongside these players when possible. Chris moves among projects with the ease he switches instruments; he plays soprano, alto, tenor and flute on the album.
Before teaching at LaGuardia High School, Eli met student saxophonist Lakecia Benjamin, and he wanted her on this project too. Lakecia found time between diverse gigs with drummer Rashied Ali, trumpeter Clark Terry, and yes, the artist Prince. She plays lead on the title track, "You Can't Buy Swing."
It took just one day in the studio, with no redo's or overdubs, to record "You Can't Buy Swing". Chris didn't choose which saxophone to play on which song until the moment. First he plays soprano on "I Want to Be a Teacher." The title refutes the old saying "Those who can, do. Those who can't, teach." By the way, drummer Alvin Atkinson prefers a twist on that saying – "When you teach, you learn twice." Bassist Ari Roland takes a bowed solo, swinging and cool.
"Getting Somewhere" is a new slant on "Out of Nowhere." Eli wrote it during cancer treatments (successful). Alvin's drums set up "Bop To Normal," with Chris on tenor and Ari bowing another solo. "Rwandan Child" is the heart of the album.
I asked Eli how – when in the studio – he holds onto his concentration through complete takes. Wouldn't it be easy to charge ahead, to stumble? His answer is that the group dynamics carry this band, and "Just One" showcases the interaction. Benjamin plays the bluesy alto on "Katiana's New Start," and Atkinson's drum solo is so melodic that it could stand alone as a button on a radio show.
Byars delivers a prayer of a tenor solo on the slower "Jacquet's Meditation." Yamin plays the foil as Roland has a dialogue between his arco and pizzicato (bowed and plucked) selves. "Waltz on the Hudson" features Byars on flute.
As all these paths converge at one crossing, the story of "You Can't Buy Swing" sounds like the work of a gifted organizer, and it is. In fact, Eli reminds me of Pete Seeger. He's a musician playing for a better world. As talent scout, opportunity-finder, generation-binder, justice-seeker and audience-builder, Eli Yamin doesn't want to just play for you. He wants
the essence of his jazz to infiltrate your community. He feels that society has undervalued several generations of musicians who created more than music. Why, just last week Eli was teaching non-musicians on the Jazz at Lincoln Center staff to play Latin rhythms – the clave, cascara and tumbao – and then fit the parts together as a model for teamwork.
So yes, you study – if you're lucky, with a teacher like Eli. You practice and seek the wisdom of elders, you teach to learn from the next generation, you work out your ideas on the bandstand, and… you take your band into the studio. Lifted by the moment, time begins to move with a new joy. Everybody's feeling it! and you smile with a serious purpose because now you know what it means to say "YOU CAN'T BUY SWING."
Becca Pulliam,
Producer of JazzSet with Dee Dee Bridgewater from NPR
August, 2008