Belem is a music town!  There are multiple symphonic orchestras and a jazz orchestra here.  We did 2 concerts and a workshop.  We got an up close introduction to the mystical world of Carimbo and visited old churches, a fort, an open air market and had killer seafood.  Seems like everywhere we go, the Fishin' Blues makes a whole lot of sense.  Like the song says, "Many fish bite if you got good bait…
Belem is where the Amazon River begins…
A cultural producer Nery and his wife Rita introduced me to many artistic treasures of Belem including a historical theatre, one of the city's symphonic orchestras and it's director, Leonardo, who is one hell of a piano player and composer.  We had a good time jammin' in the Salo dos Pianos…
When it came time for the workshop, we couldn't wait to meet the musicians who would turn up.  We heard the town of Belem has a 40-piece jazz orchestra.  For sure, it was a room full of serious musicians ready to play!  There were also great enthusiasts from many backgrounds including actors, writers, singers, dancers and children.  Kate McGarry got everyone singing the blues!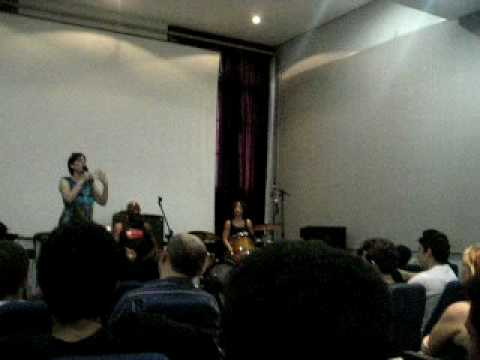 Once everyone got that blues feeling, Bob Stewart got them playing the harmony of the blues.  Armed with the hands-on lesson from LaFrae on the shuffle and feeling the doo-dle-laa, everyone got a chance to solo.  Thanks to Jazz at Lincoln Center for providing all the kazoos!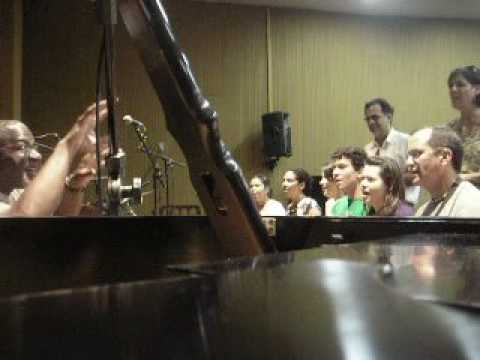 We heard from all the jazz cats too!
Then Olivia and her crew gave us a taste of Carimbo, a traditional form of music/dance from the Belem region.  In the evening, she was in full dress…
It was a magnificent time for all of us and we will forever hold Belem, Brazil close to our hearts.  Thanks to Danielle and all our friends at CCBEU for organizing the events.  Welcome Conradu Blasi from the Embassy in Brasilia and Monak from Jazz at Lincoln Center in New York.  We are so happy to have you with us and feel your great support!
Thanks to all the great musicians and artists who came out to the workshop and concerts.  We had a blast playing for you and with you and know we will be together again soon.  Keep swinging and singing the blues!