What a piano!  It's amazing how the possibilities open with a fine Steinway instrument at my fingertips.  We opened the concert with our new arrangement of the spiritual, "Trouble of the World."  After hearing this arrangement, one person observed, "Now I know where John Coltrane and those guys were coming from!"  It's true, African American Spirituals have been a well of inspiration for generations and continue to inspire us on the Rhythm Road.
In the workshop, participants hummed call and response with Kate McGarry as she evoked lessons she learned from her great teacher/mentor, Dr. Horace Boyer.  Dr. Boyer dedicated his life to teaching the repertoire and performance practices of African American Spirituals.  The hymnal he put together is used worldwide.  It's called Lift Every Voice and Sing and is published by The Church Pension Fund  (ISBN: 978-0-89869-194-8).
Once again LaFrae Sci evoked the rhythm of the blues…The shuffle is the heartbeat…
LaFrae has been documenting her experiences with us on the Rhythm Road on  LaFrae\'s Blog
Then Bob got the harmony in the mix and tapped those not playing instruments to fill in 3 parts.  Here's a taste of how that went…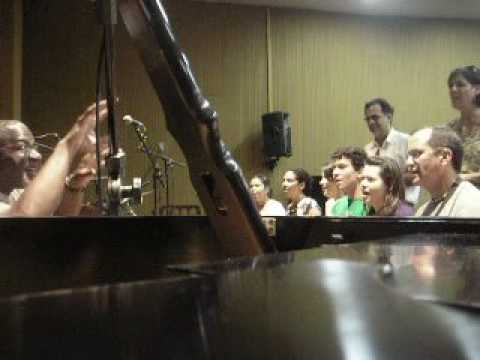 At the workshop we were also knocked out by 17-year old Brenna on cavaquinho, a guitar like instrument, and her friend Clayuton on flute. Our hearts melted when we heard them play this sweet choro called "Receita de Samba."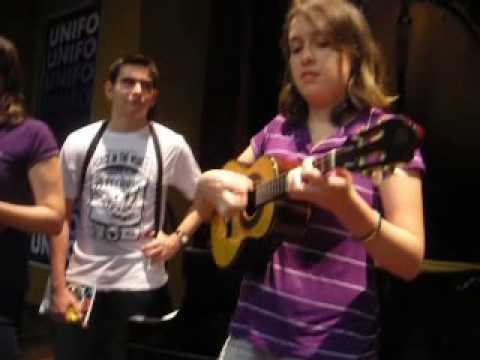 With a sound like that, we were so happy to welcome Brenna and Clayuton to play with us at our evening concert.  It was wonderful to have them play this piece joined by LaFrae on shaker.  After that they sat in with us on "I Feel So Glad" by Hop Wilson.  Brenna sure got some bluesy chords out of her cavaquinho and Clayuton took a heck of a blues flute solo!
Bob got the audience terrifically involved in the traditional "John Henry."
Next we presented our new lyrics and arrangement of my composition, "Rwandan Child."  It is dedicated to the wisdom and safety of children all over the world.  We also played our new arrangement of Billy Taylor's classic, "I Wish I Knew How It Feels To Be Free."  Billy Taylor is one of the pioneer jazz ambassadors and paved the way for artists like us to teach and play all over the world.  For me, this song will always pay tribute to Dr. Taylor's great legacy of positivity, overcoming obstacles and insistence on the jazz language being spoken, understood and appreciated by people all over the U.S. and throughout the world.
We closed the concert with Night Time Is the Right Time, made famous by Ray Charles, and "Healing Song" by myself and Clifford Carlson.  By now we are accustomed to having audiences sing with us in both English and Portugese…
HEALING SONG by
Eli Yamin and Clifford Carlson
Portuguese translation by Edvaldo Amorim
"It's not just a song for me
Take a breath and you will see
Why the blues has the power to be
A healing song, a healing song."
"Não é só uma canção prá mim
Respire e você vai ver
Porque o Blues tem o poder de ser
Uma canção… que nos cura."
One person at the workshop said, "I don't sing, I don't play an instrument.  But the atmosphere you created with the blues drew me in so I felt comfortable joining in.  It touched my soul!"
We could not have connected so deeply with the people of the North East of Brazil without the great expertise of Edvaldo Amorim, Cultural Affairs Specialist from the U.S. Consulate in Recife, Brazil. He served as road manager, interpreter and a host of other duties.  Thanks a million Edvaldo, we love you madly!
It was a fantastic first week on the Rhythm Road.  Many thanks to all our great support team at the Consulates, in Washington and at Jazz at Lincoln Center.  We look forward to new discoveries and new friends in Belem and Manaus here in Brazil and then Chile later this month.  Thanks for joining us on the Rhythm Road.  Please do reflect on what you've seen here.  We would love to hear what you think!