We arrived in Krasnoyarsk, Siberia early in the morning on July 1, drummer LaFrae Sci's Birthday. She was the first of the band off the plane and immediately received the warmth and welcome of the local people.
When we got to the hotel, we found the International Music Festival in full swing with musicians from around the world performing across the street in the plaza.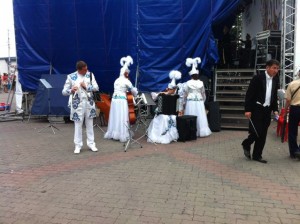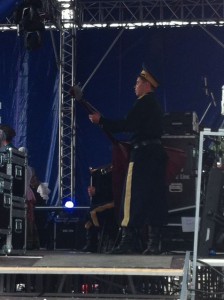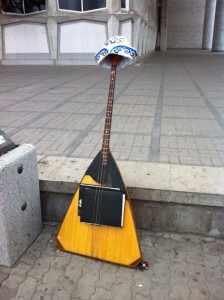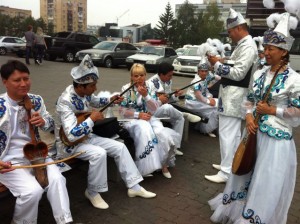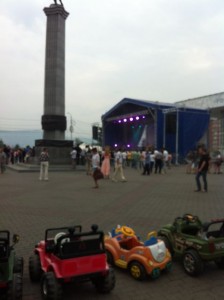 In the evening we joined in the celebration of world culture with our offering of blues from the U.S. and had a ball.  What an honor it was for us to participate in this festival.  Big thanks to the Minister of Culture of Krasnoyarsk and the wonderful and spirited organizing of Ludmila Borisova.  The next day, we gave our concert and immediately connected with the warm-hearted people of Krasnoyarsk, Siberia.  Our concert included our blues interpretation of the Russian Folk song Volga Boatmen, which I learned as a child from listening to Paul Robeson recordings, as well as our original song, A Healing Song, with the chorus sung by everyone in Russian and English, translation by Lumila and her friend Eva.  Yes, that IS LaFrae Sci in the background playing harmonica–it's a new highlight of our show for our "back porch" rendition of Sweet Home Chicago.  Also, check out Bob Stewart as he gave an impromtu tuba workshop to the local players who hunted him down.  You can also see Inyang in her first tour with the band owning the music.