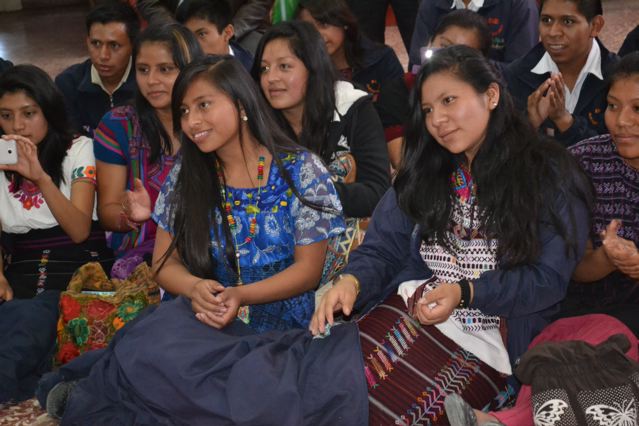 Thanks to the United States Department of State and The Jazz Drama Program, this was our third tour to Guatemala. What a privilege it was to visit this beautiful country and play for the amazing Guatemalan People!
Joined by longtime friends and associates, LaFrae Sci, drums/compositions, Lakecia Benjamin, alto saxophone and Elias Bailey, bass, the band came ready to SWING, play the BLUES, and be CREATIVE through PERFORMING and TEACHING.
In seven days, we gave seven workshops and five concerts. Our programs were organized by U.S. Embassy staff Dawn Suni, Public Diplomacy Officer and Basilia Lopez, Outreach Coordinator. Rolando Lopez, Technical Director. What a fantastic team!
Our first day we reunited with our friends pianist/teacher, Victor Arriaza and saxophonist/vocalist/teacher Rosse Aguilar Barrascout. Rosse founded and runs a music school in Guatemala City called Innato School of Music and we were happy to give three workshops to their students in jazz improvisation, highlighting lessons from jazz and blues masters Mary Lou Williams and Bessie Smith. It was an excellent way to celebrate Women's History Month!
Arriving early the next day at the National Conservatory and Municipal Music School of Guatemala to give a workshop, we found that some of the students had awoken at 2 or 3 in the morning to travel there. As early as it was, Lakecia suggested we start with a burner from our book that features her, Alto Power.  We gave it all we had!
Notice the paintings around the auditorium and the diverse ages of the students!
In the evening, we returned to Instituto Guatemala Americano(IGA) in Guatemala City to perform at the Guatemala Jazz Festival. Rosse Aguilar joined us to sing and play the blues and we premiered my new song "Climate Change" and LaFrae's composition, "Colibri," based on a Guatemalan folk tradition.  We also featured a Mary Lou Williams piece "Ode to Saint Cecile," the patroness of musicians.
The next day we traveled by van to Huehuetenango and arrived at Escual Tipo Federacion in the mid afternoon to give a professional development workshop to primary school teachers. The following day we did a similar workshop for student teachers. The workshops modeled an experiential learning approach to promote student engagement and success. By facilitating creative opportunities for students, teachers spark intrinsic motivation, ownership and agency. In the workshop, each teacher and student teacher received a kazoo and had the opportunity to collaborate in a small group to create an improvisation based on a Guatemalan folk tune. LaFrae also led a line dance on "Do the Hucklebuck." An excellent discussion followed on how lessons absorbed experientially often endure much longer then more teacher directed approaches.
The climax of our Huehuetanango visit was our concert at the Municipal Theatre. The local orchestra opened the concert with two songs. LaFrae and Lakecia joining on the second. Dawn then explained how our concert was to support women's empowerment in honor of Women's History Month. Then I started a call and response bluesy improvisation with the audience of over 500 teenagers dividing the audience into two distinct musical parts. Then, ALL THE LIGHTS AND POWER WENT OUT. That meant no microphones, no keyboard or bass amp. Immediately LaFrae took one of her drums into the audience and began a two-part women's empowerment chant, "Mujeres…mujeres. Mujeres….mujeres." Lakecia soon followed enlisting the support of the horn section from the local orchestra. Meanwhile, Dawn conferenced with our local producers and found that all the power in the town was out and not likely to come back any time soon.  They tried to rig up something but to no avail. LaFrae and Lakecia led the rest of the concert, about 45-minutes more, with improvised chants and call and responses.  The young people left elated, still in the dark, other then lights from people mobile phones. It was a truly extraordinary display of women's empowerment. Amazing!
With the sun setting we got to get some air and visit a local historical site of Mayan ruins. What a tremendous International Women's Day!
The next day we gave a workshop at Conservatorio Regional, a modest building with beautiful light, a visionary director and eager students.  Elias was moved by the opportunity to show some of the cellists how to hold the bow. I was surrounded by a heap of piano players and some of them are playing jazz. It was a wonderful exchange.
Then, it was on to Quetzaltenango and a beautiful city called Xela.  In the morning we gave a performance workshop for the students at Instituto Guatemala Americano in honor of Woman's Day.  We talked about The Jazz Drama Program musical, Nora's Ark, as a story of women's empowerment and there is interest in doing The Jazz Drama Program musical next year!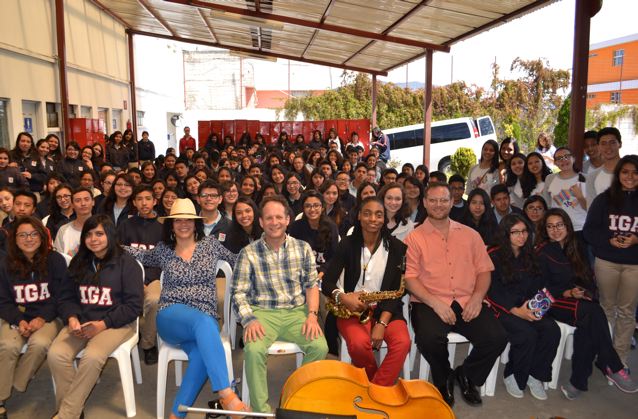 The following day we gave a concert at the Municipal Theatre as part of the Guatemala Jazz Festival.  It was a beautiful old hall and the people loved swinging music. After Lakecia tore things up on "Wednesday Night Prayer Meeting" by Charles Mingus, we gave them an encore of "On the Sunnyside of the Street." This town loves jazz that SWINGS.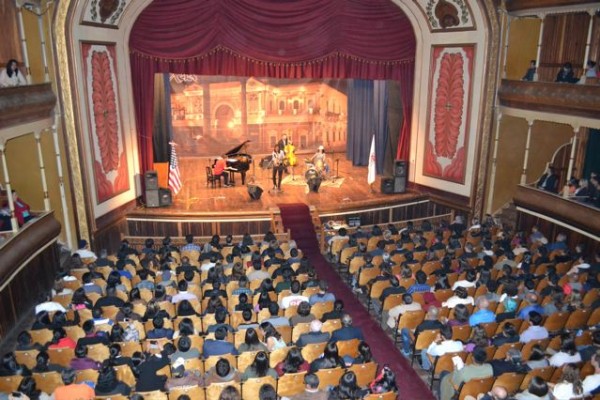 The final day we returned to Guatemala City to play for a gathering at the U.S. Ambassador's Residence. Ambassador Todd Robinson is the epitome of class, warm heart, deep into the arts, and someone who truly brings people together with his intelligence and innate sense of what makes people tick. It was an honor to perform for the second year in a row at his house. We had a thrill bringing Rosse Aguilar back up to play with us and Victor Arriaza sat in as well.  A fantastic climax of a wonderful week on the road for cultural diplomacy through JAZZ on behalf of The U.S. Department of State and The Jazz Drama Program.