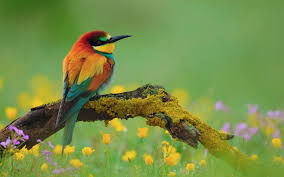 Have you ever noticed?
The birds sing first.
I mean, they have a lot to do, right? Gather food, fix up their nest. Even so, they make time to sing. That's how they always START. Makes me think of this…
Once there was a town where everyone sang first. There was a song for everything. Waking up, going to sleep, eating, dressing, walking, driving, riding, studying, playing, visiting, arguing, figuring stuff out—a song for everything. That's how it was. Sing first.
When young people reached 4th or 5th grade, they were offered an instrument to go with the songs. They played saxophones, trumpets, trombones, violins, basses, pianos, guitars and drums. They played all the time. For games, graduations, assemblies, parades, fairs, parties and ceremonies. And when the children were grown, some didn't play as much but they listened—oh how they listened! Listened so hard their teeth hurt. And the ones who kept playing, played so well they played like no one ever played before—inventing, bending notes, scooping, soaring, swinging and playing the blues. Count Basie, Duke Ellington, Mary Lou Williams, Billie Holiday, Benny Goodman were some of their names.
Oh, and did I mention, the people danced? Like no one had danced before—jumping, leaping, catching, syncopating, letting go and holding on. The music brought people together. Black, White, Latino, Asian. It healed us…
This place was here in New York City, in the United States.
It is hard to understand when, how, or why we stopped singing—when, how or why we stopped giving instruments to our children. People will give many reasons and none of them make any sense.
Dewey Redman said, "Music makes us smarter, happy and healthier." Why stop?
Louis Armstrong said, "What we play is life." Why stop?
Willie Dixon said, "The blues is the roots. Everything else is the fruits."
We'd have to be CRAZY not to play? Don't you think?
So don't be crazy—keep playing. Don't be crazy—keep singing. Don't be crazy—keep dancing.
And if anybody ever tells you to stop, you tell him what Dewey, Louie or Willie said. Or simply ask—have you ever noticed?
The birds sing first.
Jazz at Lincoln Center (4/30/16)