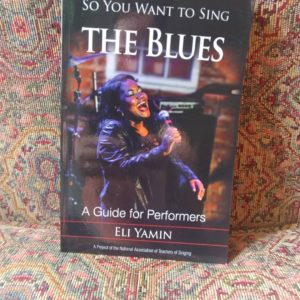 Rowman and Littlefield Publishers in collaboration with the National Association of Teachers of Singing (NATS) has released my book, So You Want to Sing the Blues.  This book is the gathering of many of my life experiences being inspired, guided and uplifted by the blues since I was a child. It is also the result of precious mentorship I received from blues masters Walter Perkins, Amiri and Amina Baraka and many others as well as serious study of the voice for the past ten years with Jeanie LoVetri and Darrell Lauer. The book has chapters on:
Origins of the Blues
Singing and Voice Science by Scott McCoy
Vocal Health by Wendy LeBorgne
The Magic and Mechanics of Singing the Blues by Darrell Lauer with Eli Yamin
Developing Authentic Style Characteristics: Early Blues Women
Developing Authentic Style Characteristics: Early Blues Men and Another Woman
Developing Authentic Style Characteristics: Chicago Blues and the Modern Blues Sound
Making a Soulful Sound and Writing Your Own Blues
Using Audio Enhancement Technology by Mathew Edwards
This book is designed to be a resource for people new to the blues to understand the African American cultural traditions that create and sustain the it AND for blues performers experiencing vocal challenges who could use more techniques for healing and strengthening the voice for more flexibility and stamina.
There are links throughout to MUSIC because the blues masters are, of course, the best resource for learning and going deeper in understanding the blues.
For me, it was a thrilling journey to read, watch and listen to everything I could on the blues and distill it to what I hope is a compelling resource for performers for years to come. Here's an excerpt from the introduction:
"Sure, I play and sing other kinds of music–jazz in particular–but I always come back to the blues. The blues is the foundation. The blues is the source. The blues is strength. It connects you with a lineage that goes back hundreds, possibly thousands, of years. The blues is life force and creativity. The blues is personal and collective. The blues makes people move, and the blues is real. When you immerse yourself and share what you have in the blues, your body, mind and soul and those around you are uplifted.
Whereas the blues can do all this, it is not easy. So often, the blues gets defined in small ways. But the blues blues is not small. The blues is huge…"
To order, please follow one of the links below. I hope you like the book. Please do let me know and/or write a review on Amazon as it will boost sales and help more people get more blues. Thank you!
Eli
Rowman and Littlefield Publisher