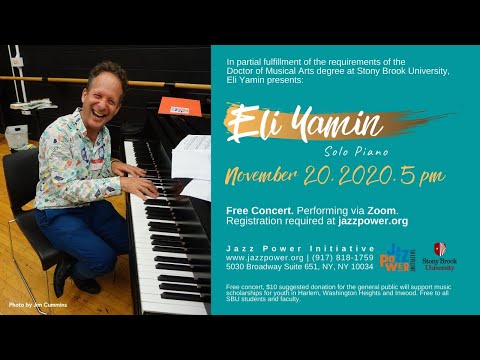 In partial fulfillment of the requirements of the Doctor of Musical Arts degree at Stony Brook University, Eli Yamin presents:
Eli Yamin: Solo Piano
Live Stream from Eli's Living Room, Inwood, New York City
Well You Needn't by Thelonious Monk (1917-1982)
Remember Rockefeller at Attica by Charles Mingus (1922-1979)
Shelter in Place by Eli Yamin (1968-)
Light Blue by Thelonious Monk
Free Improvisation #1
Lift Every Voice and Sing by J. Rosamund Johnson (1873-1954)
Adagio cantabile, Pathetique Op.13 by Ludwig van Beethoven (1770-1827)
Crepuscule With Nellie by Thelonious Monk
Free Improvisation #2
Monk's Point by Thelonious Monk
Evidence by Thelonious Monk
Round Midnight by Thelonious Monk
Maple Leaf Ray based on Maple Leaf Rag by Scott Joplin (1868-1917)
I Cover the Waterfront by Johnny Green (1908-1989), made famous by Billie Holiday (1915-1959)
Me and Lulu by Eli Yamin
Eli Yamin – Managing Artistic Director @Jazz Power Initiative Eli Yamin, an imaginative and community-oriented pianist and composer from New York, has performed with his jazz quartet and blues band as a cultural ambassador for the U.S. Department of State in Albania, Brazil, Chile, China, Greece, Guatemala, India, Mali, Montenegro, Romania, and Russia. A Steinway Artist, Yamin has also performed at Carnegie Hall and Jazz at Lincoln Center in New York, The Kennedy Center in Washington DC, and scores of international festivals including The Lionel Hampton Jazz Festival in Idaho, The St. Petersburg Jazz Festival in Russia, The Guatemala Jazz Festival in Guatemala City and Jazz in Marciac in France. He also appeared several times with his band at the Obama White House. Eli's recordings include You Can't Buy Swing with his jazz quartet; I Feel So Glad, with his blues band; Louie's Dream, dedicated to "our jazz heroes," with New Orleans-based clarinetist Evan Christopher, Live In Burghausen with jazz icon, Illinois Jacquet and Message From Saturn, a jazz musical about the healing power of the blues he co-wrote that was inspired by Sun Ra and Mary Lou Williams. Mr. Yamin was the musical director for the 10th Anniversary tour of Duke Ellington's Sophisticated Ladies, directed by Mercedes Ellington, and serves on the board of The Duke Ellington Center for the Arts. He is also the co-founder and Managing Artistic Director of The Jazz Power Initiative, a non-profit organization that transforms lives through jazz arts education and performance. The author of So You Want To Sing The Blues: A Guide for Performers, published by Rowman and Littlefield in collaboration with The National Association of Teachers of Singing (NATS), Yamin is working towards his Doctorate of Musical Arts at Stony Brook University, The State University of New York.