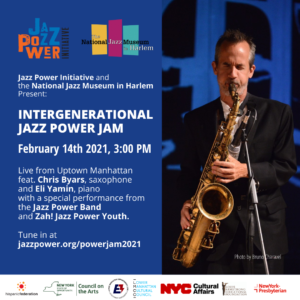 Intergenerational Jazz Power Jam will stream live on Sunday, February 14th at 3pm from Upper Manhattan.
New York City, February 8, 2021 – Jazz Power Initiative (JPI), a not-for-profit organization, continues its 2021 season of INTERGENERATIONAL JAZZ POWER JAM on Sunday, February 14th, 2021 at 3 PM EST on Facebook Live and YouTube in collaboration with The National Jazz Museum in Harlem.
Tune in through Facebook and YouTube Live at jazzpower.org/powerjam2021.
Hosted by Jazz Power Initiative's Managing Artistic Director Eli Yamin, this Intergenerational Jazz Power Jam will feature a duo performance by Chris Byars and Eli Yamin as well as lively conversation about Byars' current work as Team Leader for NYC Test and Trace Team 76 and recorded video performances from Byars colorful career, spanning from a Bud Powell commission for the WDR Big Band to a guest appearance with an Algerian expat folk orchestra performing in Algeria for the first time in over 50 years.
Composer and saxophonist Chris Byars has released 15 CD's as a leader and toured over 50 countries as a jazz ambassador. His segment will be followed a Jam featuring performances by artists of all ages including Byars' saxophone student from Lebanon performing Thelonious Monk's favorite hymn "Abide With Me" in honor of Black History Month.
To submit a video of a music, dance or poetry performance for the Jam up to 5 minutes, artists of all ages can fill out this survey here.
"As the pandemic continues we are encouraged by community minded artists like Chris Byars who use their music and other skills to uplift spirits and lend a hand to those who need it most." Eli Yamin, pianist and Artistic Director of Jazz Power Initiative.
Supporters:
New York City Council and Council Member Ydanis Rodriguez; the Hispanic Federation The Miranda Family Fund; The Upper Manhattan Empowerment Zone; The New York City Department of Cultural Affairs; Lower Manhattan Cultural Council; New York State Council for the Arts; The National Jazz Museum in Harlem; The Louis Armstrong Educational Foundation; Manhattan Borough President Gale Brewer; and Jazz Power Initiative individual supporters.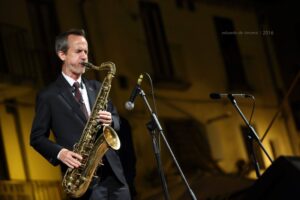 Chris Byars is an award-winning saxophonist, bandleader, arranger/composer, conductor, and educator based in New York City. He has been performing festivals, concerts, educational workshops, and jazz clubs since 1987. His 15th commercially-released CD as a leader, On the Shoulders of Giants, was released in March 2020.
A frequent guest of German Radio Jazz Orchestras, he was recently the arranger for WDR Big Band's Tribute to Bud Powell, starring guitarist Pasquale Grasso in April 2019, and NDR Big Band's Bird @100 in August 2020. He has composed extended works for WDR, NDR, Riverdale Sinfonietta, Harlem in the Himalayas, and the Chamber Music America New Works Program.
As a Cultural Ambassador for the U.S. State Department, Chris has traveled to over 50 countries. His most memorable performance was with the Algerian folk group El Gusto! who invited him as a special guest in their 2015 Homecoming Concert in Algiers.
Faced with the total shutdown of live performances, Chris turned to civil service in 2020, fulfilling roles as Census Enumerator, Election Day Spanish Interpreter, and Bilingual Contact Tracer. Chris currently works as Team Leader for NYC Test and Trace Team 76, interviewing New York City residents to elicit information about close contacts and provide support for their households.
In addition to his own groups, Chris Byars has performed extensively with the Ari Roland Quartet, John Pizzarelli, the Vanguard Jazz Orchestra, John Mosca, Neal Miner, Lapis Luna, Eli Yamin, John Colianni, Zaid Nasser, Chris Flory, and John Marshall. He has also served as musical director for Bryant Park's Christmas Skate-tacular (2016-2018), and performed with Wynton Marsalis, Teddy Charles, Hilary Kole, Joe Lovano, Betty Carter, Jerry Dodgion, Barry Harris, Lou Donaldson, Leroy Williams, Frank Hewitt, Jimmy Lovelace, Charles Davis, David Berger, Vince Giordano, John Hicks, and Freddie Redd.
Eli Yamin, a community-oriented pianist, composer and educator based in Upper Manhattan has performed as a jazz and blues ambassador for the United States, in over 25 countries and in the U.S. at Lincoln Center, Carnegie Hall, the Kennedy Center and the White House. His recordings include You Can't Buy Swing with his jazz quartet; I Feel So Glad, with his blues band; Louie's Dream, with New Orleans-based clarinetist Evan Christopher, and Live In Burghausen with jazz icon, Illinois Jacquet. His three youth-centered musicals: Nora's Ark on climate crisis and collaboration, Holding the Torch For Liberty about women's rights and Message From Saturn, about the healing power of the blues have been performed internationally in four languages and across the U.S., bringing diverse communities together through jazz and blues to tell socially uplifting stories. Eli is the co-founder and Managing Artistic Director of Jazz Power Initiative and the author of So You Want to Sing the Blues: A Guide For Performers published by Rowman and Littlefield in collaboration with the National Association of Teachers of Singing (NATS).
###
About Jazz Power Initiative
---
Jazz Power Initiative (JPI), a non profit, 501 (c) (3) organization since 2003, serves over 3100 New Yorkers and visitors annually – students, teachers, artists, seniors and general audiences, ages 8-80+, to promote youth development, and build more creative and inclusive communities through jazz music, theater and dance education and performance. Led by highly experienced teaching artists who are award-winning jazz, theater and dance professionals, JPI offers multidisciplinary training, scholarships and performance opportunities to New York City youth, ages 8-19, from every economic and social milieu at low or no cost to families, with extended outreach to students in under-served New York City public schools in Northern Manhattan. We currently engage over 500 students and their teachers annually, providing after-school instruction mainly in Harlem, Washington Heights and Inwood (where our offices are located) and the Bronx. Our programs include after-school youth masterclasses at the United Palace; our monthly Jazz Power Jam at the National Jazz Museum in Harlem; local community senior center workshops, and our annual Jazz Power Institute at Lehman College (CUNY) for artists and educators.
About The National Jazz Museum
---
The National Jazz Museum in Harlem is a thriving center for jazz that stimulates hearts and minds, and reaches out to diverse audiences to enjoy this quintessential American music. The Museum is committed to keeping jazz present and exciting in the lives of a broad range of audiences — young and old, novice and scholar, artist and patron, enthusiast and curious listener. Each year, the Museum produces and presents nearly 100 free programs in New York City, engages hundreds of professional jazz artists and reaches nearly 20,000 people from around the world.
Media Contact:
Name: Janny Gonzalez
Title: Director of Business Affairs
Phone: (917) 818-1759
Email address: janny@jazzpower.org