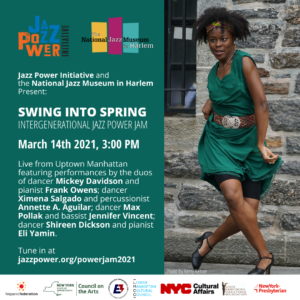 New York City, March 2, 2021 – Jazz Power Initiative (JPI) continues its 2021 season of INTERGENERATIONAL JAZZ POWER JAM on Sunday, March 14, 2021 at 3 PM EST on Facebook Live and YouTube, in collaboration with The National Jazz Museum in Harlem, with "Swinging Into Spring Dance Jam," showcasing the art of improvisation and featuring acclaimed dancers and choreographers Mickey Davidson, Shireen Dickson, Ximena Salgado, and Max Pollak. Audiences of all ages are invited to participate!
Tune in through Facebook and YouTube Live at jazzpower.org/powerjam2021 at 3 PM EST. 
Hosted by Jazz Power Initiative's Managing and Artistic Director Eli Yamin, March's Intergenerational Jazz Power Dance Party Jam is a fun, friendly-family celebration featuring performances by the duos of dancer Mickey Davidson and pianist Frank Owens; dancer Ximena Salgado and percussionist Annette A. Aguilar; dancer Max Pollak and bassist Jennifer Vincent; dancer Shireen Dickson and pianist Eli Yamin.
Celebrating the creative, improvisational experience between diverse musical and dance traditions of the African diaspora, these intergenerational performances reflect its wide range and vitality across the Americas today, from swing and tap to mambo and merengue, with insightful conversation about how music is made for dance.
For our audiences of all ages:
Help us showcase your moves at March's Intergenerational Jazz Power Dance Jam!
Dancer, musicians, singers, and poets are invited to participate in our jam dance party by submitting a video from 10 seconds, to up to 3 minutes here, to highlight.
This month's theme: IMPROVISATION.
Supporters: New York City Council and Council Member Ydanis Rodriguez; the Hispanic Federation; The Miranda Family Fund; The Upper Manhattan Empowerment Zone; The New York City Department of Cultural Affairs; Lower Manhattan Cultural Council; New York State Council for the Arts; The National Jazz Museum in Harlem; The Louis Armstrong Educational Foundation; Manhattan Borough President Gale Brewer; and Jazz Power Initiative individual supporters.